Press Release
Pictured Left to right
Guy Guarino, Chief Development Officer, CVHS
Molly Sain, Director GHCCM Medical Clinic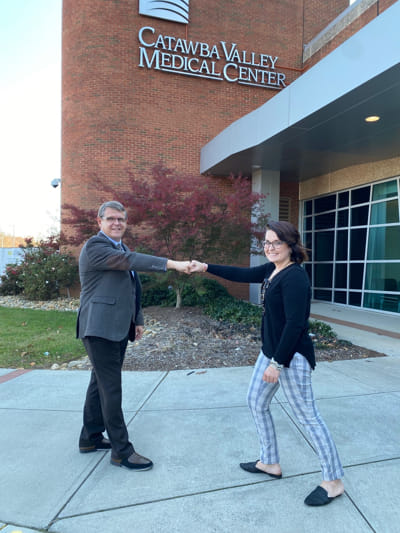 Greater Hickory Cooperative Christian Ministry (GHCCM) announces receipt of a $250,000 grant for its Medical Clinic from The Duke Endowment. This grant will help the ministry to provide Hope, Help, and Healing for all by improving health outcomes and increasing access to care for the low-income, uninsured population in Catawba and Alexander Counties through community collaboration and outreach.
The provided funding will help to provide vaccines for patients, improve and increase access to general care, promote disease prevention, improve health outcomes through community collaboration and outreach, decrease inpatient admissions in local emergency facilities, and prevent complications related to chronic health conditions.
GHCCM operates the only free and charitable medical clinic in Catawba and Alexander Counties. No patient is turned away due to the inability to pay. Specialized health services such as Internal Medicine, Gastroenterology, Dermatology, Gynecology, Ophthalmology, Dental, and Endocrinology are offered onsite as well.
Molly Sain, Medical Practice Administrator for the Medical Clinic, emphasizes the importance of keeping neighbors out of local emergency facilities, saying, "Medical care for the uninsured and indigent populations in our community is so needed. One of the primary goals of GHCCM's Medical Ministries Clinic is to help keep patients out of the hospital. With help from The Duke Endowment funding we received, local hospital inpatient utilization has dropped by 8% and Emergency Department utilization has dropped 22% since 2020."
GHCCM is thankful to Catawba Valley Health System for its partnership as the liaison between GHCCM and The Duke Endowment. "We are proud to partner and leverage resources with GHCCM and The Duke Endowment on this grant initiative to expand a community network of care for the low-income, uninsured in Catawba and Alexander counties." Stated Guy Guarino, Chief Development Officer at CVHS.
The Duke Endowment's mission is to strengthen communities in North Carolina and South Carolina by nurturing children, promoting health, educating minds, and enriching spirits in four areas: Child and Family Well-Being, Health Care, Higher Education, and the Rural Church.
GHCCM is dependent on grants and financial contributions to continue offering the wide range of support to its most vulnerable neighbors. It is the goal of GHCCM to work together to offer stability to those in crisis. For hours of operation, ministry offerings, or to donate, visit GHCCM's website at www.ccmhickory.org. For additional information email info@ccmhickory.org. To volunteer, send your request to outreach@ccmhickory.org.