As Greater Hickory Cooperative Christian Ministry (GHCCM) moves towards a transformational ministry, there is major emphasis being placed on health and wellness through the Dr. John and Carol de Perczel Whole Life Center (WLC), a neighbor-centered wholistic (whole-person) ministry. Linda Johnson, Director of Health and Wellness Education at the WLC, is spearheading the endeavor and coordinating efforts with the Neighbor Engagement Team (NET), Medical Clinic, Pharmacy, and Nutrition Center.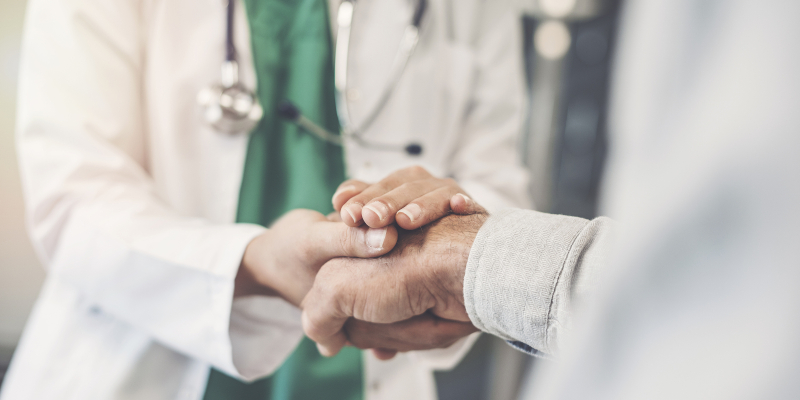 The goals of health and wellness are to provide education and care coordination and promote healthier lifestyles by using a wholistic approach, in addition to practicing self-management behaviors every day. The staff and partnering agencies at GHCCM assist to design specific goal-oriented plans for each person. In addition, participants will be provided the tools, education, and support resources for successful outcomes.
From a grant provided by Direct Relief/Ely Lilly, diabetes education and nutrition classes are available to our patients/neighbors for them to better understand the importance of healthy meal planning and have access to a registered dietitian, hands-on cooking instructions, and heart-healthy recipes. Classes are available virtually and in-person at the WLC. There is also one-on-one consultation provided for assessment of individual needs. Ongoing education is being provided through the monthly support group meetings that are being held outside at the WLC.
The diabetes education classes emphasize the importance of the American Diabetes Care and Education Specialists' 7 self-care behaviors. They include healthy eating, the importance of monitoring, supportive problem-solving strategies, medication monitoring and the importance of taking the proper medication, reducing risks, healthy coping, and the overall benefits of being active. Increased physical activity is being promoted with the convenience of having the nearby Hickory City Walk behind GHCCM's main campus.
The health and wellness team has partnered with several agencies and universities in the area. They include the American Diabetes Association, the American Heart Association, Lenoir-Rhyne University Nursing Department and nursing students who see patients in the medical clinic, Appalachian State University Dietetics Department and students, NC Cooperative Extension Office, and Live Well Catawba Coalition/Workgroups.
Through a grant provided by Americares Baxter/CareSignal, the Health and Wellness Text Monitoring Outreach Program is a collaborative effort with our most vulnerable population. Participants are identified through the GHCCM medical clinic, pharmacy, nutrition center, NETworX, and the WLC. Actively engaged participants who are checking their blood sugars on a regular basis and who are responding to text or phone messages from CareSignal receive healthy food boxes each month. Other periodic incentives, such as Walmart gift cards, are provided for making healthy food purchases such as fresh fruits and vegetables, meats, healthy snacks, etc.
Currently, there are 100 diabetic participants enrolled in CareSignal. The CareSignal Dashboard is reviewed on a frequent basis to monitor for any alerts that have been triggered that are indicative of hypoglycemia or hyperglycemia. Blood sugar data is reviewed and monitored. Mentoring and coaching is being provided by the Health Navigator.
Tobacco Cessation is another important aspect of improving one's health and wellness. In-person classes are held at the WLC, which is a registered NC Quitline Referral Site. GHCCM and the WLC proudly promotes and provides education for having "Tobacco-Free Campuses". The WLC is in partnership with Carleen Crawford, Tobacco Treatment Specialist and Regional Tobacco Control Manager, along with the Lenoir Rhyne University Nursing Students (during clinical rotations) to provide guidance, education, and support to our patients/neighbors regarding Tobacco Cessation. Ms. Johnson has recently attended extensive continuing education for Tobacco Prevention Specialist Training offered by Duke-UNC.
For more health and wellness information, to sign up for any of the classes, or to learn more about the Diabetes Support Group Meetings, please contact Linda W. Johnson, BSN, RN, CDCES at 828-323-7917 or email lwjohnson@ccmhickory.org.
GHCCM is open to serve our neighbors in most need. GHCCM is dependent on financial contributions to continue offering the wide range of support to our neighbors who are our most vulnerable. It is the goal of GHCCM to work together to offer stability to those in crisis and a pathway towards independence. For the current schedule, ministries offered and to donate, visit our website at www.ccmhickory.org. For additional information email info@ccmhickory.org. To volunteer send your request to outreach@ccmhickory.org.