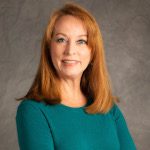 Molly Sain, Administrative Director of Health and Client Services, and the Greater Hickory Cooperative Christian Ministry (GHCCM) announce that Bonita Ferretti is the ministry's new Director of Development. Ms. Sain states, "Bonita is a true asset to the ministry and we are pleased that she is stepping into this new leadership role.  She brings a knowledge of the community that will be advantageous as the ministry moves forward for many years to come.  We are grateful to her passion and commitment to GHCCM."
Ms. Ferretti joined GHCCM over a year ago as Recruitment, Outreach, and Grant Specialist.  Prior to her joining the GHCCM Development team, she worked and volunteered with a variety of local non-profit organizations and has held multiple leadership roles including President of the United Arts Council of Catawba County, President of Hickory Community Theatre, President of the Holy Trinity Endowment Foundation, Chairman of the Service League of Hickory's Scholarship Program, Business Manager of the Hickory Choral Society and was named New Rotarian of the Year for the Rotary Club of Hickory in 2019.
Her experience of living and working in Hickory includes fundraising, event planning, advocacy, and promotion for a variety of non-profit organizations and she has worked closely with community leaders of all levels. Bonita and her husband, Vince, have lived in Hickory for 29 years.  Ms. Ferretti states, "It is an honor and a privilege to be part of an organization with a long history of helping those in need.  I look forward to the challenge of developing and sustaining financial support from the generous greater Hickory community. It is a blessing to live in such a vibrant community and to be part of the leadership team setting a course for the future at GHCCM."
Linda Wade, previous GHCCM Director of Development, has stepped down from her position to become the Development Assistant on a part time basis.  Ms. Wade expresses, "I'm thrilled to have played an active role at GHCCM.  The Development team is in good hands with Bonita as their leader.  Each member of the team brings confidence, enthusiasm and expertise that will continue to strengthen the impact on those we serve. I look forward to my next chapter at GHCCM as being a support to the ministry"
The Greater Hickory Cooperative Christian Ministry is a non-profit organization founded by churches in the greater Hickory area.  The Ministry is supported primarily through grants and contributions from churches, businesses, individuals, and civic groups.  The services provided by the Ministry include: crisis assistance to help with rent and utilities; a free and charitable Medical Clinic; a pharmacy that offers free and low-cost medications; support for those experiencing homelessness by providing a crisis clothing closet, a shower ministry, washer and dryer use and mailing address service.
To support GHCCM send contributions to 31 First Avenue SE, Hickory NC, 28602, donate securely online or for more information, visit the website at www.ccmhickory.org.