GHCCM journeys with our neighbors to address the immediate crisis, stabilize the situation and assist with finding solutions to problems, both simple and complex.
People come to our ministry at Greater Hickory Cooperative Christian Ministry (GHCCM) in need of solutions to life circumstances. The Neighbor Engagement team assesses the current situation and assists our neighbors in exploring a workable plan. Our team provides one-on-one time with our neighbors in Hickory, North Carolina and surrounding areas to complete a life, health and wellness assessment that is used to create an action plan to help identify their personal and family needs.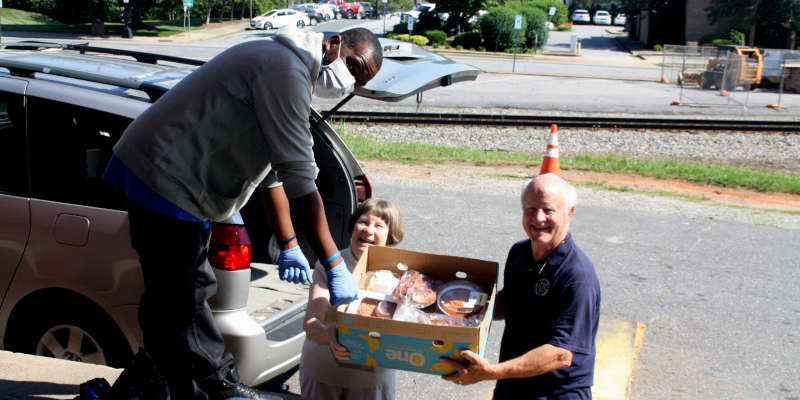 Neighbor Engagement Team
Our most vulnerable neighbors come to Greater Hickory Cooperative Christian Ministry (GHCCM) for help in a crisis situation or to help those who are looking for solutions to their immediate needs.  The Neighbor Engagement team (client service) serves as the first stop to inquire about receiving services and determining what services best meet the immediate and future needs. Each person is an individual, and our team works with each to develop a personalized plan.
The WRAP Program
Neighbors are referred to our WRAP program (Wellness*Recovery*Action Plan) after GHCCM helps with the immediate or crisis needs of the client.
WRAP begins with an assessment of the social determinants of health that helps to identify a multitude of issues that contribute to health and wellness to include:

health problems,
unsafe or substandard living conditions, housing needs,
employment issues,
legal concerns, food insecurity,
mental health concerns, substance abuse, physical or emotional abuse,
education opportunities,
special needs of children or family members, social and spiritual support networks, and transportation needs.
Based on this assessment and the desired goals of the neighbor, care navigators further coordinate both in-house and community-based services with the overall goal of improving:
a person's emotional, financial, and spiritual stability
helping that neighbor look toward a future that is brighter
The Whole Life Center
The Whole Life Center (WLC) has been created to provide "Next Step" services that will assist our neighbors in gaining independence from the poverty cycle.
NETworX
NETworX, as part of the Whole Life Center (link to Whole Life Center page), is a faith-based initiative that engages the community to help move families out of poverty, help children succeed in school, and address systemic solutions to poverty. Through a wholistic (whole person), relational approach, NETworX explores overcoming poverty with an emphasis on community, relationships, trust, and reciprocity as we learn to thrive in all areas of our lives.
Medical Clinic
GHCCM's medical clinic provides primary and specialty care, dental services and eye care for uninsured patients. These services are supported by area healthcare providers, businesses, and volunteers along with public and private sponsors.
Pharmacy
GHCCM's pharmacy offers qualified patients access to low and no-cost medications through patient assistance programs and partnerships with area businesses and wholesalers.
Housing Programs
We provide SSO-CE (Supportive Service Only – Coordinated Entry) to our Neighbors in Catawba, Caldwell, Alexander, Burke and McDowell Counties. Through the Back@Home program, we serve those in Catawba, Caldwell and Alexander Counties.
For More Information, Contact:
828-327-0979
info@ccmhickory.org