31 Thrift Brochure VolunteerScout Project Video
31 Thrift and More! is a non-profit store specializing in thrift, vintage, antique, and new items for sale.
31 Thrift and More! is a non-profit store specializing in thrift, vintage, antique, and new items for sale in our brick and mortar Hickory, North Carolina location, and through our online stores at www.31thriftandmore.org, Etsy and eBay.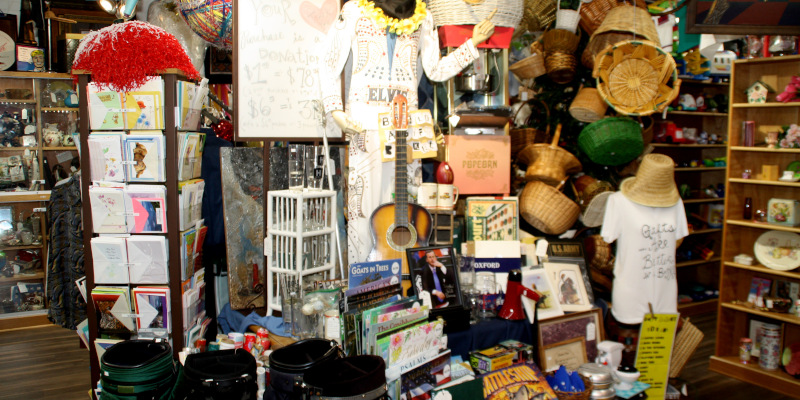 31 Thrift & More's vision is to provide an amazing shopping experience for today's shoppers while generating revenue to bring help, hope, and healing to our community's neighbors in need.  We offer unique clothes, accessories, housewares, and more, all at spectacular prices.  Your purchase feels so good!  100% of all revenue generated through 31 Thrift & More! helps to fund the many programs and services offered through Greater Hickory Cooperative Christian Ministry (GHCCM). Adjacent to our brick & mortar location, we help to support the Nutrition Center which provides food to around 10,000 households each year, an in-house pharmacy, which dispensed over $16 Million in prescription medicines last year to Catawba County's uninsured residents, a medical and dental clinic, computer literacy, job support, counseling, etc, financial assistance for "neighbors" in crisis, disability and many other programs to assist people in receiving the help they need to move forward in their life.  Please check out our Facebook, Instagram, Etsy, and eBay.
A GREAT PLACE TO SHOP
Bringing a whole new way to "thrift" to Hickory, NC, 31 Thrift & More! offers a fun and unique shopping experience that will leave you planning your next visit! Whether you are shopping, donating or volunteering, you will find inspiration as you wander through each thoughtfully created space.
At any given time, you'll find clothing brands like Burberry & Kate Spade, North Face & J.Crew to vintage & 70's 'threads', as well as "fresh" furniture, one-of-a-kind gifts & unique housewares!
We invite YOU to come in and see for yourself why our store will become one of your favorite places to shop.
Bonus Article: 31 Thrift and MORE! has been named one of the top thrift stores in the state!  Click here to go on a road trip through NC Thrift Stores!
DONATIONS
We Can Accept:
Gently Used Clothing
Gently Used Shoes & Purses
Accessories & Jewelry
Books, LPs, & Media (CDs & DVDs)
Artwork, Wall Décor
Vintage Items, Antiques
Household Items
Toys (clean, working, & no missing parts)
Small Appliances & Electronics (in working condition)
We Cannot Accept:
Large Appliances
Mattresses
Any Items with a Strong Odor or Cigarette Smell
Computers, Box TVs, VCRs, Printers, Scanners
Dirty or Soiled Items – Linens, Housewares, Toys, etc.
Furniture & Large Instruments & Exercise Equipment (not approved by Director)
Strollers, Car Seats, Cribs, Etc.
31 Thrift & More! is open to the public, so please come out and shop and change lives.  100% of the profits go directly back into the ministry.
31 Thrift &More!
31 Thrift & More! on Etsy
31 Thrift & More! on eBay
Our Etsy store features vintage clothing and unique accessories from year's past, whereas our eBay store carries many new items with tags and designer options at reasonable prices.
Shop us on our 31thriftandmore.org site to pursue our large inventory of military memorabilia.
Finally, did you know that Amazon donates 0.5% of the price of your eligible Amazon Smile purchases to the charitable organization of your choice? Simply go to Amazon Smile, log into your Amazon account as usual, select Greater Hickory Cooperative Christian Ministry as your charity, and shop as usual.
31 THRIFT & MORE!
Monday, Wednesday – Saturday: 10:00 A.M. – 5:00 P.M.
Tuesday: 11:00 A.M. – 6:00 P.M.
We are accepting donations on Mondays: 10-4, Tuesdays: 11-4, Fridays: 10-4 and Saturdays: 10-2pm.
828-327-0979 ext. 239